The Company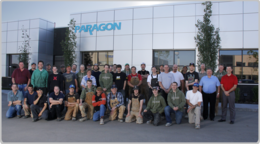 Incorporated in 2002, Paragon Ventilation (Calgary) Ltd. is the southern Alberta arm of the Paragon group. Operating in Calgary since 1995 as a division of Paragon Ventilation Ltd., this new company was formed in 2002 to facilitate the addition of two key employees as shareholders, John Strychun and Brent Gursky. Paragon Ventilation (Calgary) Ltd. is also a full service heating and air conditioning contractor active in both the commercial and industrial sectors, with its own in-house fabrication facility located in south east Calgary. Paragon Ventilation (Calgary) Ltd. currently employs approximately 30 full-time employees, with annual volumes approaching 7 million dollars.
Services
Building Automation

Building automation that allows users to manage systems using automated set points.

Heating + Air Conditioning

Keeps indoor temperature comfortable by providing heating, cooling, ventilation and humidity control.

Refrigeration

Specialized systems for maintaining conditions for chilled or frozen product or process.

Service + Maintenance

24 hour service and regular maintenance as required in order to keep the performance of an HVAC system at the level it was designed for.