The Company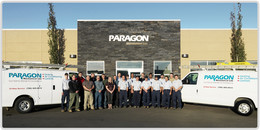 Incorporated in 1990, Paragon Mechanical Ltd. specializes in HVAC service, maintenance of Heating and Air Conditioning systems, and has completed Controls and Refrigeration installations throughout Northern Alberta and the Northwest Territories.
Amtech, which operates as a Division of Paragon Mechanical Ltd., became part of Paragon Mechanical in 1999, and specializes in Building Management Control Systems. Amtech is the exclusive dealer in Northern Alberta for the industry leading Alerton BACtalk® line of Direct Digital Controls Technology products.
Paragon Mechanical Ltd. employs approximately 40 full-time staff, and has a fleet of 25 service vehicles with 24-hour service capability., Annual revenues are in excess of 9 Million dollars. Paragon Mechanical Ltd. manages approximatey 350 HVAC maintenance agreements, each custom designed to meet individual company needs. In recognition of its commitment to workplace health and safety, Paragon Mechanical Ltd. currently holds a Certificate of Recognition from Alberta Employment, Immigration and Industry.
In April, 2010, as a way to ensure the long-term future of the company, key employees were added as shareholders of Paragon Mechanical.  They are Jason Haxby, Mike Hamel, Andy Hawes, and Cindy Rose.
Services
Building Automation

Building automation that allows users to manage systems using automated set points.

Heating + Air Conditioning

Keeps indoor temperature comfortable by providing heating, cooling, ventilation and humidity control.

Refrigeration

Specialized systems for maintaining conditions for chilled or frozen product or process.

Service + Maintenance

24 hour service and regular maintenance as required in order to keep the performance of an HVAC system at the level it was designed for.